360° Data Protection Plan
AnyIT's 360° Data Protection is a complete disaster recovery solution, to make sure your critical data is safe, secure and accessible when you need it.
70% of businesses who suffer a serious data loss are out of business within 2 years. AnyIT's 360° Data Protection Plan gives you the peace of mind to know you won't be one of them.
Your business data is too valuable to leave its safekeeping to chance. That's why the team at AnyIT has created the only data protection plan that exclusively meets the needs of small businesses, and is backed by our commitment to Phenomenal Service.
The AnyIT 360° Data Protection Plan (360DP) is made up of three distinct features that make this the most complete and reliable server data backup option available to your business: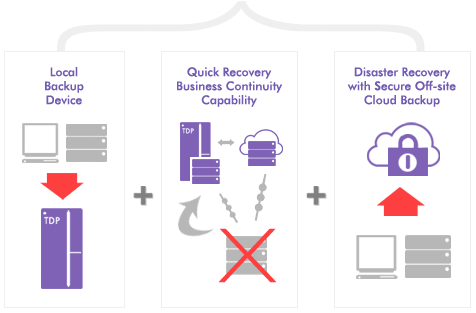 1. Hassle-free Local Backup that gives you the fastest way to recover file
Data backed up as often as each 15 minutes to the 360° Data Protection unit located in your office – never worry about long periods of time in between backups again!
No unreliable tapes; instead backing up your data to redundant hard drives – no more management of tape rotations!
All data and applications backed up automatically – no need to choose which files to back up or any need to buy costly agents for Exchange, SQL, or other open files
Full restoration of files fast and easy enough to be done by anyone – restoring a file takes minutes.
TDP monitored 24/7 by AnyIT – our team of engineers is constantly watching to make sure your data is being backed up as planned, so you can relax.
2. Quick Recovery Business Continuity Capability
Quick Recovery Business Continuity Capability enables the highest possible levels of business continuity in the event of an emergency.
If one of your server crashes, the 360DP will be quickly be provisioned to temporarily take over in place of the failed server, with all of your applications, data, and settings available within moments vs. the 1 to 3 days of typical recovery time when using a tape backup system (assuming the data is actually even on the tape, and assuming that you have a functional server to restore to!)
3. Disaster Recovery Capability that allows us to re-create your entire data history in the event of a true disaster and eliminates the cost and hassle of off-site tape storage.
Copies of your data can be kept off-site at two SAS70 Type II secure data centers in the US, meaning that a safe copy of your data always exists. In the event of an emergency that disables or destroys your local back up, offsite copies of your data enables a quick business recovery. TDP eliminates the cost and hassle of off-site tape storage.
In the event that anything happens to your physical server room, the AnyIT team can virtualize your Servers from the remote Data Centers; providing complete disaster recovery for your business.
No data backup service is complete without these three features – don't leave your business exposed to the risks of an incomplete data backup plan!
Learn more about our 360° Data Protection sever backup plans.